Making Democracy Work
The League of Women Voters, a nonpartisan political organization, encourages informed and active participation in government, works to increase understanding of major policy issues and influences public policy through education and advocacy. It neither supports nor opposes candidates or political parties. Membership is open to all women and men who subscribe to its purpose.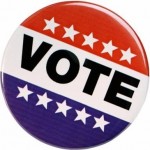 IMPORTANT DATES:
Tuesday, June 7, 6 a.m. – 8 p.m.: Primary Election Day
Tuesday, June 7: Petition filing deadlines for independent candidates for general elections
Thursday, September 15: Last day for a political party to fill a primary nominee vacancy
Tuesday, October 18: Last day to register or change voting address for general elections
Tuesday, November 1: Deadline for mailed application for a vote by mail ballot to the County Clerk
Monday, November 7, 3 p.m.: deadline for applying for a vote by mail ballot in person at the County Clerk's office
Tuesday, November 8: General Election Day (Polls open 6 a.m. to 8 p.m.)

Local Leagues
LWV Bergen County: Minna Greenberg, President
Fair Lawn, Ilene Kahn, President
Glen Rock, Carole Schwartz, President
Northern Valley, Chris Sagona, contact
Ridgewood, Anne Burton Walsh, President
Teaneck, Arlene Gartenberg, contact
See ABOUT US or CONTACT US for more information.