Making Democracy Work
The League of Women Voters, a nonpartisan political organization, encourages informed and active participation in government, works to increase understanding of major policy issues and influences public policy through education and advocacy. It neither supports nor opposes candidates or political parties. Membership is open to all women and men who subscribe to its purpose.
MARCH is WOMEN'S HISTORY MONTH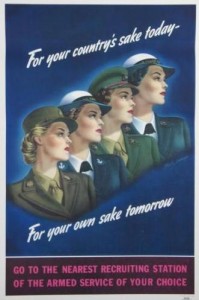 WANTED: WOMEN OF WORLD WAR II
Whether with the military as WACs, WAVEs, or WASPs, as nurses, ambulance drivers or Red Cross volunteers, American women responded to the poster message "Uncle Sam Wants You." Others joined the work force as "Rosie the Riveter" or "Winnie the Welder" to mass produce the ships, planes, tanks and guns for the war effort in the 1940s.
The League of Women Voters of Bergen County will pay tribute to these women on March 30, as their traditional commemoration of Women's History Month.
Unfortunately, only a few of that "Greatest Generation" survive today and we want to reach all who reside in Bergen. If you have any information about a woman who was so involved, please contact us via e-mail lwvbergen@gmail.com or call (201) 391-5617.
Appropriate articles, which help to explain how things were during the war years, are also being sought for display ‒ please no weapons. We want to make this period of history come alive for the generations who are too young to remember back then.
Local Leagues
LWV Bergen County: Minna Greenberg, President
Fair Lawn, Ilene Kahn, President
Glen Rock, Carole Schwartz, contact
Northern Valley, Lucy Heller, contact
Ridgewood, Patricia Infantino, President
Teaneck, Doris Thurber, contact
See ABOUT US or CONTACT US for more information.